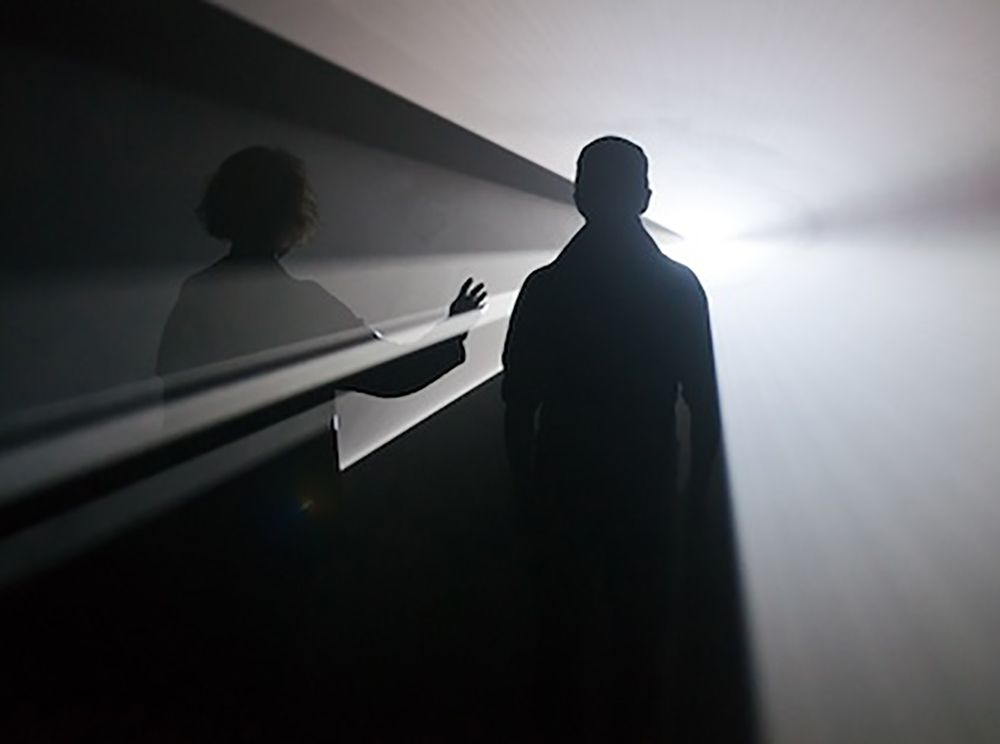 October 19, 2014 – February 28, 2015

Anthony McCall first exhibited on the west coast in 2007 with a solid light installation, "You and I, Horizontal" (2005) at the San Francisco Museum of Modern Art and "Four Projected Movements" (1975), a solid light film performance, at New Langton Arts. Neither before nor after this first exposure to McCall's work has he been shown on the west coast and, overall, little in the US.

Anthony McCall was born in St Paul's Cray, England in 1946 and he lives and works in New York City. McCall studied design at Ravenbourne College of Art and Design, London (1964-1968). In the early 1970's through to the end of the decade, McCall was part of early structuralist and experimental cinema circles in London, moving to New York in the early 1970s alongside his then partner Carolee Schneemann where he was connected to Happenings, Fluxus and the Judson Street Dance Theater. Unusually, he had a nearly 25 year hiatus from the end of the 1970s, until his inclusion in the Whitney Museum of American Art's exhibition, "Into the Light: The Projected Image in American Art 1964–1977" in 2000.

The exhibition presents McCall's digital solid light installation, "You and I, Horizontal II" (2006) in the historic 1857 Hallock and McMillan. Stripped backed to its origins, the installation returns McCall's work to the derelict and dusty old spaces in which he first presented his early solid light films in London. In the front room is "Miniature in Black and White" (1972), one of only two slide projector works McCall made as a form of filmic experience. The viewer stands in front of the slide projector gazing at a small screen immediately in front of the projector lens with 80 slides moving at one slide per second, forcing the slide carousel into the action of a film strip.

McCall has redefined the boundaries between sculpture, film, performance and drawing, and between the viewer and the work. Pre-dating his solid light films were a series of durational "Fire Cycles" performances (1973-74) in expansive landscapes that lasted 12-13 hours. His first and most well-known solid light film, "Line Describing a Cone" (1973) reversed cinematic convention, transforming the space into an immersive field—viewers walk into the shifting cone of light and are incorporated into the film. Recent publications on McCall's early work are repositioning his drawings, performances and film works with scholarship and writing by George Baker, Hal Foster, Brandon W. Joseph and Anne Wagner.

Anthony McCall's work has been seen in major exhibitions internationally, including The "Complete Cone Films" in The Tanks, Tate Modern, London, and "Five Minutes of Pure Sculpture" at the Hamburger Bahnhof, Berlin, both in 2012. Since then, his work has been presented in prominent museums in Europe, North America, New Zealand, Tasmania, South America and the United Arab Emirates. McCall's work is in the permanent collections of the Solomon R. Guggenheim Museum, New York; Musée National d'Art Moderne, Centre Pompidou, Paris; Thyssen-Bornemisza Art Contemporary, Vienna; San Francisco Museum of Modern Art; Tate, London; Moderna Museet, Stockholm; and Musée d'Art Contemporani de Barcelona. He is the recipient of the John Simon Guggenheim Memorial Foundation Fellowship in 2008 and the Marie-Josi-Prize of the 5th International Experimental Film Competition in Knokke, Belgium in 1975.